ADDICT ADDICT X MARVEL ARTIST SERIES 1 - DROP 1
ADDICT X MARVEL ARTIST SERIES 1 - DROP 1
11th September 2013
ABOUT THE HULK
Supervising the trial of an experimental gamma bomb that he designed for the U.S. Defense Department at a nuclear research facility in New Mexico, Bruce selflessly rushed to the rescue of an ignorant teenager who had wandered onto the testing field as the countdown ticked inexorably toward zero. After shoving young Rick Jones to safety in a nearby ditch, Bruce was struck full-force by the bomb blast. He survived, but was irradiated by the deadly gamma energy.
At first, Banner would transform into the brutish gray Hulk only at sunset, and revert to human form at dawn. Eventually, his changes into the childlike green Hulk came to be triggered by the release of adrenaline when he was intensely excited, no matter what time of day. The green Hulk possesses little of Banner's memory and intelligence, and is easily enraged; making him a menace to society.
Since Banner's initial transformation into the Hulk, military forces commanded by the implacable General Thaddeus "Thunderbolt" Ross - Bruce's one-time benefactor – have hunted him continually. Hulk continued to make more enemies within the military such as Major Glenn Talbot as he and Bruce constantly competed for the affections of Ross' daughter, Betty.
For a short time, Banner successfully treated his condition with radiation and was able to maintain enough of his own personality when he became the Hulk to control himself in that form. Subsequently, he earned the government's favour by destroying the alien Metal Master and received a presidential pardon.
POWERS
The Hulk possesses an incredible level of superhuman physical ability. His capacity for physical strength is potentially limitless due to the fact that the Hulk's strength increases proportionally with his level of great emotional stress, anger in particular.
The Hulk uses his superhumanly strong leg muscles to leap great distances. The Hulk has been known to cover hundreds of miles in a single bound and once leaped almost into orbit around the Earth. The Hulk can also use his superhumanly leg muscles to run at super speeds, although his legs have limitless strength he does not have limitless speed and once he reaches a certain speed his legs become too strong and destroy the ground giving him no friction to run on, therefore he jumps to travel.
The Hulk can slam his hands together creating a shock wave, this shock wave can deafen people, send objects flying and extinguish fires. His thunderclap has been compared to hurricanes and sonic booms.
The Hulk has shown a high resistance to physical damage nearly regardless of the cause, and has also shown resistance to extreme temperatures, mind control, nuclear explosions, poisons, and all diseases. In addition to the regeneration of limbs, vital organs, and damaged or destroyed areas of tissue at an amazing rate. The Hulk also has superhuman endurance.
The Hulk's body also has a gland that makes an "oxygenated per fluorocarbon emulsion", which creates pressure in the Hulk's lungs and effectively lets him breathe underwater and move quickly between varying depths without concerns about decompression or nitrogen narcosis.
ABILITIES
Dr. Bruce Banner is a genius in nuclear physics, possessing a mind so brilliant that it cannot be measured on any known intelligence test. When Banner is the Hulk, Banner's consciousness is buried within the Hulk's, and can influence the Hulk's behavior only to a very limited extent.
WEAPONS
While on Sakaar Hulk fought with gladiator's weapons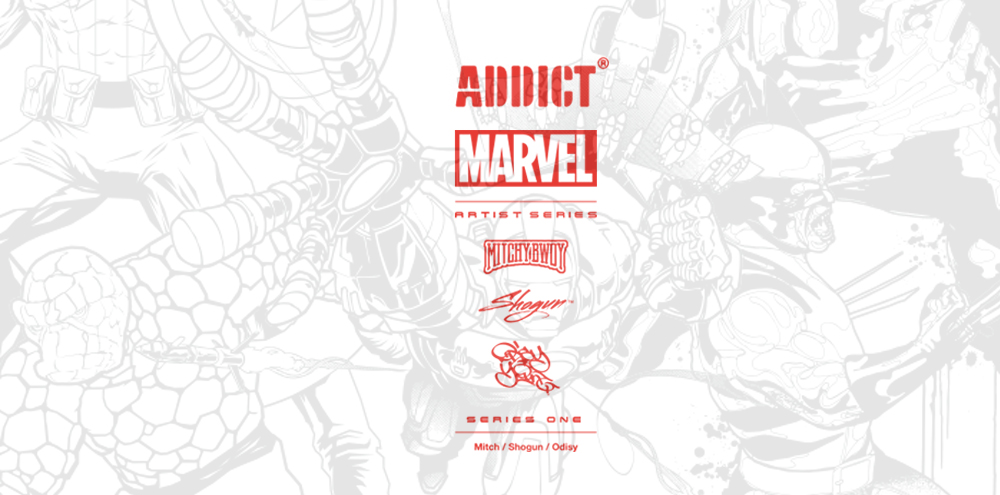 Following the artistic and creative successes of our Lucas Film and Disney licenses, we are excited to be able to apply the same original Addict interpretation to one of the most influential and iconic brands in popular culture today - the characters of Marvel.
With links to critically acclaimed contemporary artists both domestic and abroad, we have the ability to curate and create Addict & Marvel artist series collections allowing us to express an exciting range of infamous characters presented on premium custom tees using the highest level of multi-coloured screen print techniques to produce a highly desirable product perfect for street wear and young contemporary fashion market as well as appealing to the huge dedicated and loyal Marvel fan base.
Marvel Artist Series One features designs from three UK illustrators at the very top of their game. Mitch, Shogun and Alex 'Odisy' Young bring their own unique interpretations to some of Marvel's most iconic characters; Hulk, Wolverine, The Thing, Captain America, Iron Man and Spider-Man.
Each artist has been inspired by Marvel comics since childhood, resulting in a set of tee graphics designed from the heart. Individual styles and techniques combine to showcase a diverse range of skills, forming a cohesive and complimentary collection which, embodies the true spirit of Marvel...
SHOGUN
Raised on a staple diet of Marvel comics, cult TV shows & Kung Fu movies, Shogun™ has long been obsessed by the visual medium. Over the years he has built up a diverse client list including Marvel, Lucas film, Disney, Sports Illustrated & The Wall St. Journal to name but a few. Shogun™ is currently represented by Richard Solomon Artist Representatives in New York, an agency with an exceptional pedigree & 28 years of delivering excellence at the highest level.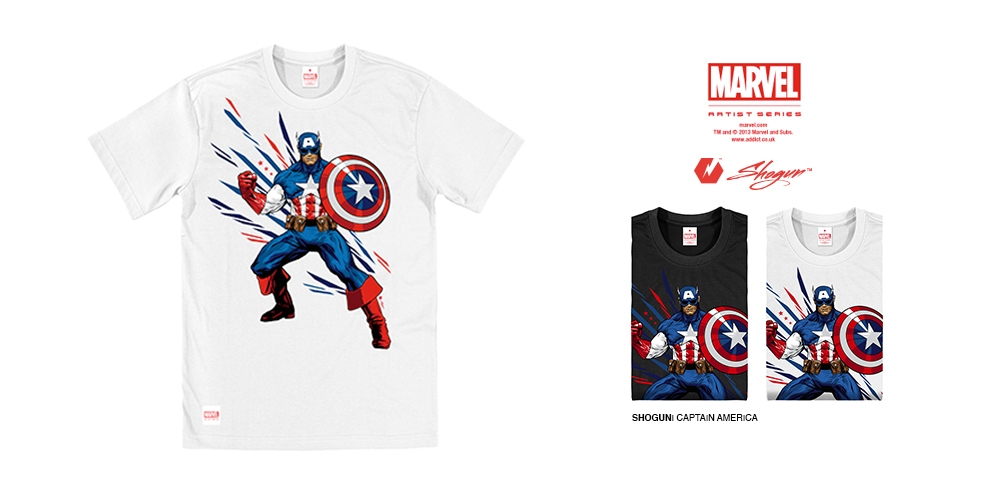 CAPTAIN AMERICA
In World War II patriotic solider Steve Rogers recipient of the "Super Soldier Serum" became the living symbol of freedom, Captain America. Left for dead while frozen in ice, the star-spangled hero with an indestructible shield awoke years later to continue his never-ending battle for liberty.
POWERS
Captain America represented the pinnacle of human physical perfection. He experienced a time when he was augmented to superhuman levels, but generally performed just below superhuman levels for most of his career. Captain America had a very high intelligence as well as agility, strength, speed, endurance, and reaction time superior to any Olympic athlete who ever competed. The Super-Soldier formula that he had metabolized had enhanced all of his bodily functions to the peak of human efficiency. Most notably, his body eliminates the excessive build-up of fatigue-producing poisons in his muscles, granting him phenomenal endurance.
ABILITIES
Captain America had mastered the martial arts of American-style boxing and judo, and had combined these disciplines with his own unique hand-to-hand style of combat. He had also shown skill and knowledge of a number of other martial arts. He engaged in a daily regimen of rigorous exercise (including aerobics, weight lifting, gymnastics, and simulated combat) to keep himself in peak condition. Captain America was one of the finest human combatants Earth had ever known.
WEAPONS
Captain America's only weapon was his shield, a concave disk 2.5 feet in diameter, weighing 12 pounds. It is made of a unique Vibranium-metal alloy that has never been duplicated. The shield was cast by American metallurgist Dr. Myron MacLain, who was contracted by the U.S. government to create an impenetrable substance to use for tanks during World War II. MacLain was never able to duplicate the process due to his inability to identify a still unknown factor that played a role in it. The shield was awarded to Captain America by the government several months after the beginning of his career. The shield has great aerodynamic properties: it is able to slice through the air with minimal wind resistance and deflection of path. Its great overall resilience, combined with its natural concentric stiffness, enables it to rebound from objects with minimal loss of angular momentum. It is virtually indestructible: it is resistant to penetration, temperature extremes, and the entire electromagnetic spectrum of radiation. The only way it can be damaged in any way is by tampering with its molecular bonding.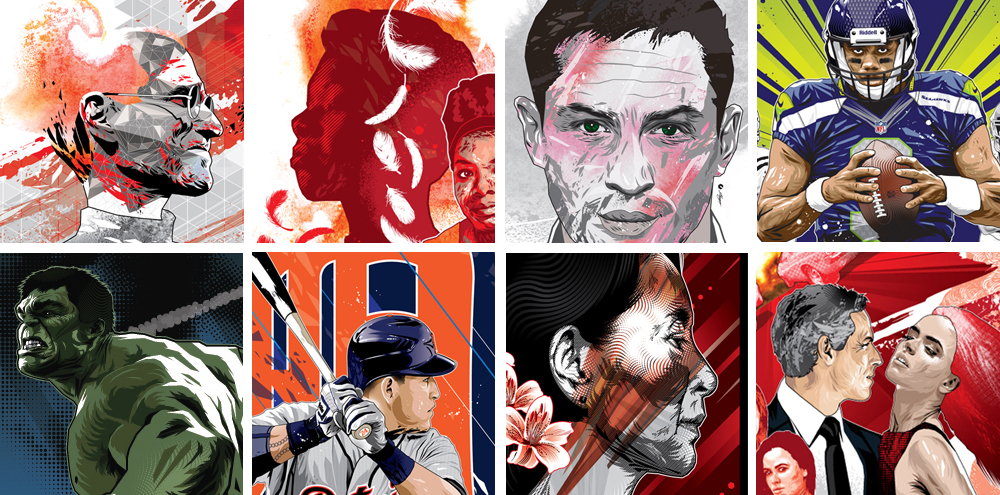 ODISY
Alex "Odisy" Young is a versatile artist and illustrator born and raised in London. He produces fine detailed illustrations, pointillist canvases and huge murals all influenced by a background in comics, skateboarding, graffiti and tattoo culture.
"I wanted to convey the way in which these characters interact with their surroundings by illustrating them in dynamic poses using lots of perspective and interesting angles. They made such an impact on me growing up that I really wanted to give them my own twist and interpretation, Odisy style."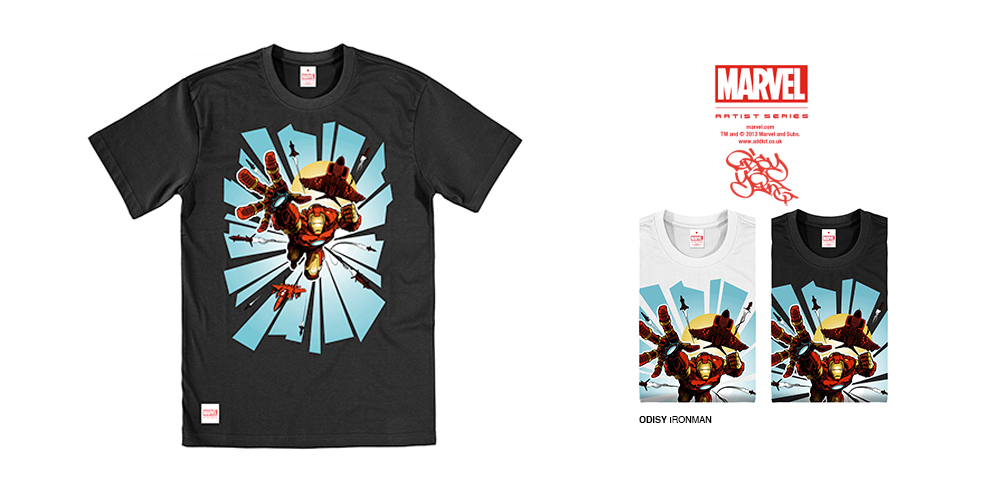 ABOUT IRON MAN
Tony personally attended a field test of his military hardware at one of his international plants; however, soon after his arrival Stark's party was attacked by a gang of terrorists led by the Sin-Cong revolutionary Wong Chu. During the skirmish, a land mine went off and lodged a piece of shrapnel near Tony's heart. Taken back to Wong-Chu's camp, Tony shared a cell with Professor Ho Yinsen, a world-famous physicist. Wong-Chu demanded that the two scientists develop advanced weaponry for his forces. Knowing that he could not live long with the shrapnel so close to his heart, Tony proposed that he and Yinsen devote their gifts to creating one of the battle suits he had been developing, equipped with a magnetic field generator to prevent the shrapnel from reaching his heart. The armour they created became the first true Iron Man armour and was equipped with crude magnetic weaponry for defense. While the armour's battery was being powered, some of Wong-Chu's men attempted to break in on the proceedings. Yinsen went to create a diversion and was shot to death by Wong-Chu's men. When the battery had finished charging, Tony went into battle as Iron Man and tore Wong-Chu's camp apart. He eventually returned to the USA with the aid of US Marine James Rhodes. Tony offered Rhodey a job with his company should he ever need one.
POWERS
None; Tony's body had been enhanced by the modified techno-organic virus, Extremis, but it is currently inaccessible and inoperable.
ABILITIES
Tony has a genius level intellect that allows him to invent a wide range of sophisticated devices, specialising in advanced weapons and armour. He possesses a keen business mind.
WEAPONS
The Iron Man armour includes Tony's primary energy weapon, repulsor rays, a powerful particle beam which is standard equipment in the palms of his armour; the repulsor ray can repel physical and energy-based attacks, traveling as either a single stream or as a wide-field dispersal. The armour has also been outfitted with pulse bolts (extremely powerful plasma discharges which grow in strength as they seek their target), sonic generators, explosive shell projectiles, mini-missiles, magnetic field generators and a laser torch built into the finger of Tony's gauntlet. The armour's surface can generate an electric charge to dispel attackers.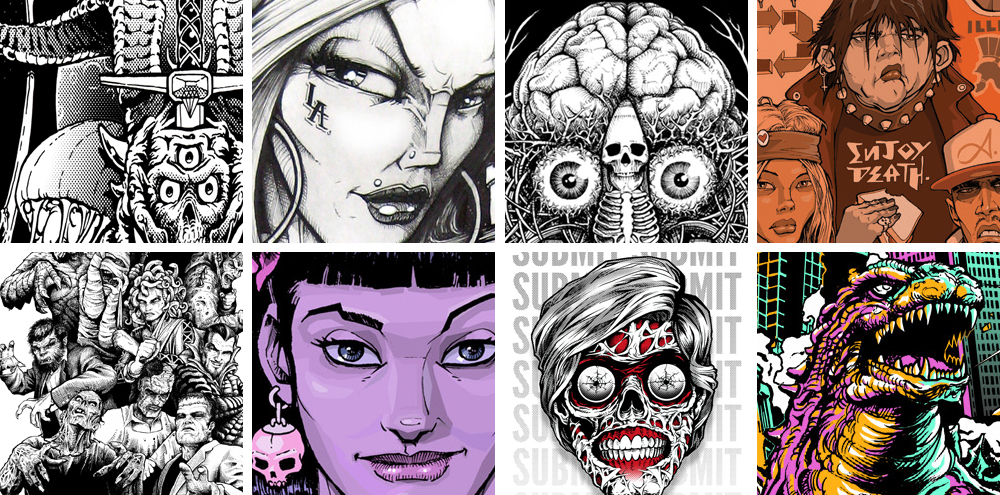 MITCHY BWOY
Graphic artist Mitchy Bwoy has exhibited world-wide, from the Barbican / London to the Art Basel / Miami, with numerous solo & group shows. He has collaborated with other celebrated artists including Mode 2 and Banksy. His work has been commissioned by major clients including Nike / Jordan, WeSC clothing, Addict clothing / Lucas film and a whole host of musicians such as Ziggy Marley, Nitin Sawhney, Chase & Status + many more.