ADDICT SKITZ - BASS ADDICT EXCLUSIVE MIX
SKITZ - BASS ADDICT EXCLUSIVE MIX
Way back in 1996 his debut 12" is released on Ronin. 'Skitz alongside Roots Manuva' and gains him immediate success. The song not only causes a stir on the Hip-Hop underground but it also crosses over to the Jazz scene.

The track gets picked up by Giles Peterson and also Patrick Forge who later use the track for the Rebirth of Cool series. The single also opens doors for the talented Roots Manuva.
Since then he's been on the front cover of most UK Hip-Hop magazines and has won countless awards. He's a firm favourite with the Addict crew.

2011 Things are runnin'….watch this space……feel the bass bins rumble……

Addict - Designed With Passion, Worn With Pride

Bumbaclart Vip First Aid And Pulsar
Never (Soul Music) Skitz Ft Roots Manuva, Rodney P, Darrison And Solo Banton
Live Up Rodney P Ft Peoples Army
Youths Are So Cold Richie Spice
Don't Ask Me Dutty Goodz
Forward Vip Dynamite Mc
Badman Forward Ding Dong
Get Ready Congo Natty Ft Tenor Fly And Daddy Freddy
Smoke My Herbs Sizzla
Blowfish Chimpo
How We Do Skibbadee/Busta Rhymes
Licence ? Crissy Cris Ft Harry Shotta And Rodney P
Dance Revolution Dance Revolution
Ol' Time Killin Pt 2 (Anywhere) Kardinal Offishall
Pumpkin Belly Tenor Saw
Gets Mine Oh No Ft Buckshot
Band Practise 9th Wonder
Writers Block Royce Da 5'9'' Ft Eminem
Aliens Vs Goblins Game/Lil Wayne/Tyler The Creator
Pot Of Gold Game Ft. Chris Brown
One Day Mims Ft Jr Gong
Heaven Deadly Hunta
Police A Come(Run) Rosie B N Luca
Bali Buff Ting Benny Page
Gaza Trigga (Chimpo Prods)
Frontline Aqua Sky Ft Tenor Fly
Hustle On Giggs (Benny Page Remix)
Soundwar Marcus Visionary/Bunny General
Promised Land Serial Killas/Congo Natty
Get Ready Serial Killas/Congo Natty
Fire Is Burning Freddie Mckay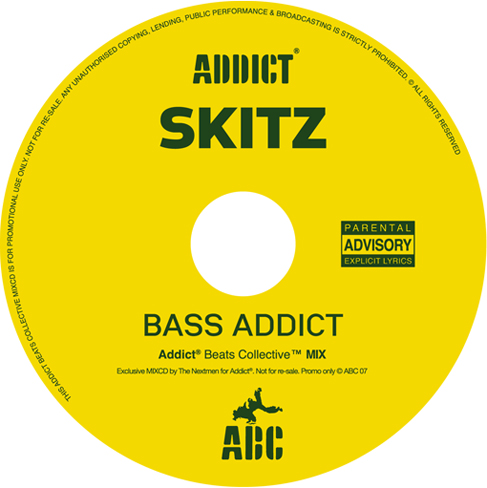 So popular is Skitz's UK Sound that ex-Galliano rapper Rob G writes a track all about searching for the elusive Skitz track. He also gets sampled by US producer Dallas Austin for Monicas huge R'n'B album on which he is also credited.Countryman wins Hip Hop album of the year at the 2001 Hip Hop awards.

The year 2003 also saw the growth of his own label Titan Sounds. Set up alongside friend and talented producer Mickle and featuring MC's Riddla, the Extremists , Skeme and Big P. Skitz has been on the cover of Hip Hop Connection, Fatboss, Touch and Straight no Chaser.

1Xtra is born. A sister station to radio 1 but only on digital format it features the cream of the crop of black music DJs from all genres and Skitz and Rodney P are asked to present the flagship Hip Hop show playing British rap alongside American and interviewing big names from both sides of the atlantic. Original Fever gets a phenomenal response from around the whole world. He interviews 50 Cent, Redman and Method Man, Ludacriss, Chuck D, Talib Kweli, The Roots, Beanie Seagal, Memphis Bleek, Pharrell from the Neptunes, Nappy Roots and the Clipse to name a few. Skitz produces the track alongside Agzilla that launches the station which features Beverly Knight, Roots Manuva, Rodney P and Gemma Fox.
Skitz is commissioned to launch a new compilation series BAD MEANING GOOD. Skitz remixes for Skint Records Freq Nasty and also festival favourites lamb and Grand Centrals Funky Fresh Few all to critical acclaim. Skitz tours Australia with Rodney P and also plays out in Miami, Taiwan, Greece, Scandanavia and Europe.

Once again Skitz is asked to launch a new series of compilations. 'Homegrown'…. Put together for React Music. Skitz and Rodney P in their capacity as 1xtra deejays together support Jay Z, Kanye West , Ghostface Killah and the Roots. Silent Soundz team up with Skitz to present Homegrown Volume 2. Skitz also lets off Million Dans mixtape Infra Red to critical acclaim.

His second production album STICKSMAN is out now. Featuring artists such as Kardinal Offishal, Rodney P, Masta Ace, Deadly Hunta, HarryShotta, Dynamite MC, Nathan 'Flutebox' Lee and foreign beggars to name a few. Smashin up the airwaves and seedy condensation dripping bassments and outernationally on the festival circuit Skitz ain't going nowhere!!

Sticksman Out Now.....

2011 Things are runnin'….watch this space……feel the bass bins rumble…….